A little number won't make a big difference, right? Too often, that's the mentality consumers have when purchasing things and using debt to pay for it, whether it's a new car, putting that big vacation on a credit card, or even taking out a mortgage loan for their house. Wrapped up in the minutiae and excited about the purchase, consumers often take the first loan that is given to them or don't adequately research or shop around for the best interest rates. But the difference in payments you make over the life of the loan can be HUGE!
Mortgage savings:
Let's assume that today's national averages are around 4.5% on a 30-year fixed mortgage loan. By the way, those rates are near historical lows as the all time national average is closer to 7.5%. So if we compare those two numbers on a $250,000 home purchase over 30 years…
Loan amount: $250,000
Interest Rate: 7.5%
Monthly Payment: $1,748
Total Payments: $629,280
Total Interest Paid over Life of Loan: $379,280
Now, let's look at that same home loan but with a good interest rate these days, 4.5%.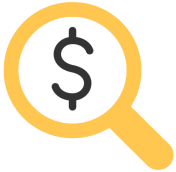 Loan amount: $250,000
Interest Rate: 4.5%
Monthly Payment: $1,266
Total Payments: $455,760
Total Interest Paid over Life of Loan: $205,760
Total Savings: $173,520
Car Loans Savings:
Interest Rate: 4.5%
Monthly Payment: $466
Total Payments: $27,960
Total Interest Paid over Life of Loan: $2,960
Or…
Loan amount: $25,000
Interest Rate: 7.0%
Monthly Payment: 495
Total Payments: $29,700
Total Interest Paid over Life of Loan: $4,700
Total Savings: $1,740
Credit Card Savings:
Loan amount: $20,000
Interest Rate: 18.0%
Monthly Payment: $500
Total Payments: $31,000 Total Interest Paid over Life of Loan: $11,000
Or…
Loan amount: $20,000
Interest Rate: 10.0%
Monthly Payment: $500
Total Payments: $24,500
Total Interest Paid over Life of Loan: $4,500
Total Savings: $6,500