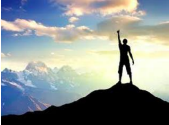 Do you have a top-notch credit score? If you have a 720 or higher FICO score, you may be patting yourself on the back, but most people don't realize there is another whole level to climb on the credit score mountain and reaching the peak will get you even better savings on interest rates, mortgages and loans. FICO scores go all the way to 850. In fact, 32.8 million people have FICO scores between 700 and 749 but approximately 70 million consumers with FICO scores above 760. But that's just base camp on the credit score mountain because roughly 36.4 million people have scores between 750 and 799 and 38.6 million are in the 800-to-850 range. Only about 1% of people with FICO scores, around 2 million individuals, ever reach the summit with a score of 800-850. So here are a few strategies to help you reach that superior credit score:
ALWAYS PAY ON TIME
According to FICO, 96% of people with a FICO score of 785 or greater have no late payments on their credit reports, so be one of those people who have a spotless payment history if you want the perfect FICO. Since payment history is 35% of FICO's scoring model, paying on time is crucial.
CHECK YOUR CREDIT REPORT PERIODICALLY
It's important to make sure that there are no errors on your credit file and everything is in order. These days, you also need to make sure that your identity hasn't been stolen or compromised, which effects up to 1 in 8 Americans every year.
SPEND LESS AND PAY DOWN YOUR BALANCES
FICO calculates a significant portion of your score by your credit utilization ratio – how much debt you keep to how much your total available balances are. A survey of those who had the top scores revealed their average credit card balances relative to their limits was just 7%. FICO calculates 30% of their scoring model by the overall money you owe and how close you are to the limits on your credit cards and revolving debt, so low balances and healthy ratios are the key to a top score.
KEEP A GOOD MIX OF CREDIT
Consumers with FICO scores above 760 have, on average, six accounts that are currently "paid as agreed" and an average of 3 accounts with a balance.
KEEP WELL-SEASONED ACCOUNTS
Most super scorers also have, on average, an oldest account that's 19 years old. The average age of their accounts is between 6 and 12 years old and they opened their most recent account 27 months ago or more. 15% of FICO's scoring is calculated by the credit history.