Right now is the best time in history to refinance for many homeowners...but if they wait, they're sure to lose out.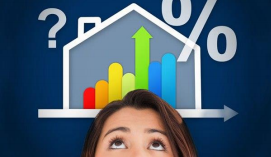 A recent report published by the Washington Post revealed that 20 percent of American households with mortgages – about one million of them - are eligible and would benefit from refinancing in today's low rate environment, but have failed to do so. The failure of homeowners to take advantage of a potential savings via refinancing – an estimated $45,000 average savings over the life of each loan – is something that's leaving economists scratching their heads. But there's one thing for sure – if homeowners continue to hesitate to refinance through the summer of 2015, they'll be missing out on one of the golden opportunities in the history of mortgages, potentially costing their families a bundle.
SO WHAT DOES IT ALL MEAN?
Refinance now if you want to save money, before it's too late. Here are five more factors that make this the perfect time to explore a refinance:
1. WE'VE MADE GREAT GAINS IN EQUITY.
Mortgage rates were at an all-time low in November of 2012, but the majority of homeowners who wanted to refinance at that time ran into a barrier that kept them from taking advantage – home equity. Rates were extremely low but the country was still crawling out of a bottoming of home values after the 2008 market crash. But even since 2012 we've gained significant gains in property value so this time, more people have enough equity to cash in.
2. LENDING PRODUCTS ARE BACK.
Banks and lenders were conservative post-real estate bubble. But as the market has picked up steam and we've enjoyed a healthy equalization, banks are getting back into the business of offering common-sense loan products, like those with low money down, lower credit scores, or are self-employed.
3. LOW RATES ARE STILL HERE – BUT NOT FOR LONG.
Throughout most of 2014 we've enjoyed historically low mortgage interest rates. But rates are expected to move after the Fed starts raising rates in June and as we flip the pages of 2015's calendar. But for now, there is still a small window for homeowners to refinance their mortgages and save money.
4. LOW COSTS TO REFINANCE MEAN QUICK BEP.
Thanks to increased competition, transparency, and regulation in the industry, refinancing a home now costs less than ever. Refinancing your home is all about long term savings, and to achieve that you need to first reach your Break Even Point, or BEP, where the savings pass the 23 cost of the loan. If you refinance now, you'll reach and surpass that BEP quickly, saving you money.
5. 15-YEAR RATES ARE LOW.
While 30-year rates are fantastic, we've seen a rise in clients who achieve even lower rates and far more savings by refinancing into 15-year conventional loans. This allows them to pay off their mortgage completely in half the time at a huge total cost savings, as they pay far less mortgage interest.