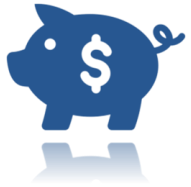 We're all looking to cut costs somehow, so we've put together a comprehensive checklist of ways you could save money. You may save a little, or a lot, but either way it all counts if it ends up in the right place – your wallet! Before you go down this list in earnest, collect all of your monthly bills and put them in one place. It helps to also track all of your expenses for 30 days (you'll be shocked what you waste money on!) Make a spreadsheet that accounts for your income and every one of your expenses, whether they're daily, weekly, monthly, etc.
1. REFINANCE YOUR MORTGAGE.
Call a mortgage broker or your current lender to see if you can take advantage of today's super low rates. Even the difference of one percentage point in interest rate can save you tens of thousands of dollars over the life of the loan!
2. SHOP OUT YOUR HOMEOWNERS INSURANCE.
Contact your homeowner's insurance agent and ask if there are better policy prices available, or shop around a little. Simple things like installing new smoke detectors or getting an alarm service may lower your homeowner's bill.
3. GET YOUR PROPERTY TAXES REASSESSED.
When your price goes up in value, your city or county taxes you more based on the value. Likewise when your home value goes down, you may be eligible for a property tax reduction. Start by calling your local assessor's office and you should never pay anyone to submit the application for you.
4. BUNDLE YOUR CABLE, INTERNET, AND PHONE SERVICES.
Keeping track of these three services can get time consuming- and expensive, so give a few carriers a call and ask about bundled packages to save money.
5. REVIEW YOUR CELL PHONE PLAN.
Call up your carrier and ask to review your usage minutes and the plan you're on. You might be overpaying for something you never use. Are there a few people in your household that use cell phones? Make sure to price out a family plan. In addition if you have a home phone that you don't really need, it's a good time to cancel it.
6. ASK YOUR CREDIT CARDS COMPANIES TO LOWER APRS.
Credit cards will often reward good customers with lower APRs, or by fixing a low interest rate if you're in a variable one. It's a good time to get a grasp on how much you owe and what your repayment plan is – if you owe more than 30% of your total available balance and/or are paying only minimum payments every month, it's time to make a money-saving change!
7. RE-PRICE YOUR AUTO INSURANCE.
Every year, your car is one year older and your driving record has changed (hopefully for the better.) That means it's time to call your insurance agent and ask if there are any discounts available or higher deductible plans.
8. KNOW YOUR CREDIT SCORE.
Every year, errors, inaccuracies, and old items costs American consumers countless millions of dollars. Pull your credit report three times a year (you can do it once for free with each bureau) and make sure your credit is clean. A good score can save you a bundle when it comes time to refinance, get an auto or business loan, or even when applying for insurance.
9. REVIEW YOUR HEALTH INSURANCE PREMIUMS.
You may save money if you've lost a few lbs., don't go to the doctor much, or want to increase your deductible. It never hurts to ask, or shop around!
10. WATCH THOSE ATM FEES.
When you use a bank other than your own, the average financial institution hits you for $2.50 in ATM fees AND your own bank can charge you an average of $1.57. Ouch. Plan your trips to the ATM so you'll always have enough cash on you, or use your debit card at places that don't charge a service fee. Hint: most supermarkets don't charge fees for cash back on purchases